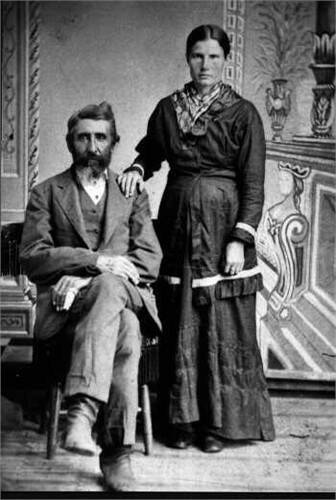 Francis Dufoe with his second wife, Minerva Tilson.
Francis Dufoe first shows up in a deed of sale in September of 1834 between Francis Dufoe and a mulatto woman named Nancy. For the amount of $550 dollars Nancy bought her freedoms for herself, her daughter Harriet and "her little son named Francis, aged one year". Nancy and Harriet had been purchased by the senior Francis Dufoe from Allen Summers in 1829 in what is now the northern part of Vernon county for $550. Not much is known about the senior Francis Dufoe but it is likely that he was one of the many traders doing business with the Choteau family on the banks of the Little Osage.
Francis' mother, Nancy, more than likely came with Allen Summers's wife, Elizabeth Wright, from Kentucky when the family settled in what is now Metz, Vernon, Missouri in 1829.
Nancy (she also went by Nisa or Nicey) next shows up purchasing land from Eliza Chorette in Bates county in 1853. She purchased 40 acres in section 7 of Prairie township for $50.
Francis and Nancy both are recorded as owning land in the 1863 Bates County Tax book with Francis owning 40 acres in section 6 of Prairie township in May of 1863.
With the issuance of General Order No. 11 in August of 1863 it appears the family refugeed to Linn county, Kansas as both Francis and Nancy are there selling their acreage in Bates county to one Clarissa Messick in March of 1864.
Francis married twice. His first wife was Saplia or Sophia Cathoret, daughter of Susan Larine and a French-Canadian man. Saplia is named as his wife in the 1860 census and also in court case pertaining to the land of Susan Larine, a woman of the Osage tribe.One son, Joseph is listed in the household in 1860. Saplia died in June of 1863.
In the 1870 census, Frank and Nancy are living in Linn county, Kansas and a daughter Nicie is in the household but Salpia is absent. Nancy Dufoe passed away in January of 1878 and is buried in Robbins Cemetery in Coffeyville, Kansas. Francis next married Minerva Tilson, widow of Robert Crowell, sometime between 1883 and the birth of their son Francis Marion Dufoe jr. in 1885. Minerva passed away in 1886 and is buried in Coffeyville, Kansas.
After the death of Minerva, Francis made his way to Indian Territory and began his application to enroll in the Cherokee nation in 1896 through his mother, Nancy Wright. Despite several affidavits from members of the Osage Nation, his enrollment is declined.
Francis Dufoe passed away on 5 March 1908 at his daughter Mellisa's home in Niotaze, Kansas and was buried in Robbins Cemetery in Coffeyville, Kansas near his mother Nancy. Francis' ethnic background in unknown. He listed his race differently through the years as Indian, Italian and white. He is described as a "mulatto" in the earliest records. His father was most likely a French-Canadian trader and his mother, Nancy, being of mixed race.
https://www.findagrave.com/memorial/50773185/francis-m-dufoe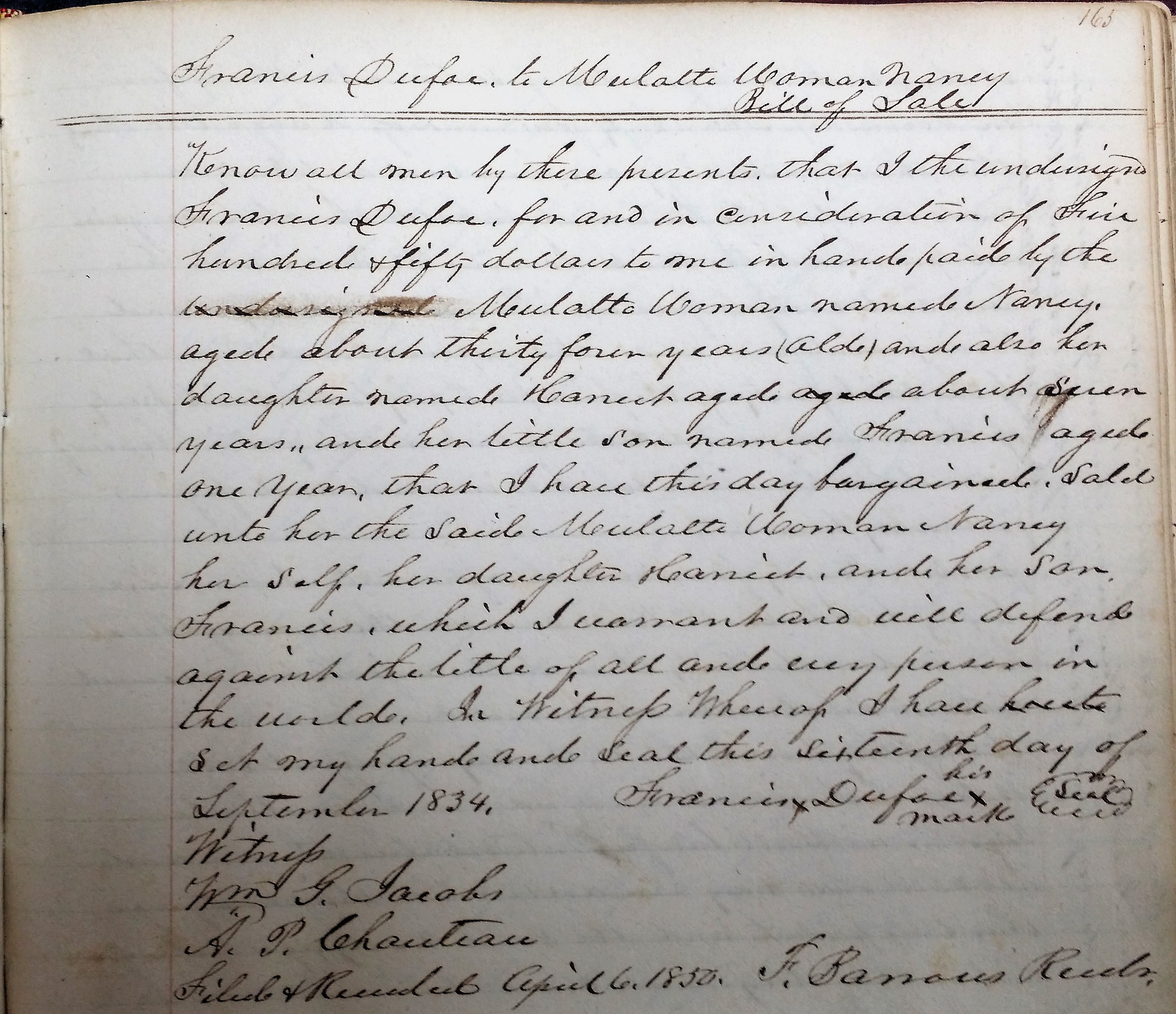 Bill of sale between Francis Dufoe and Mulatto Woman Nancy.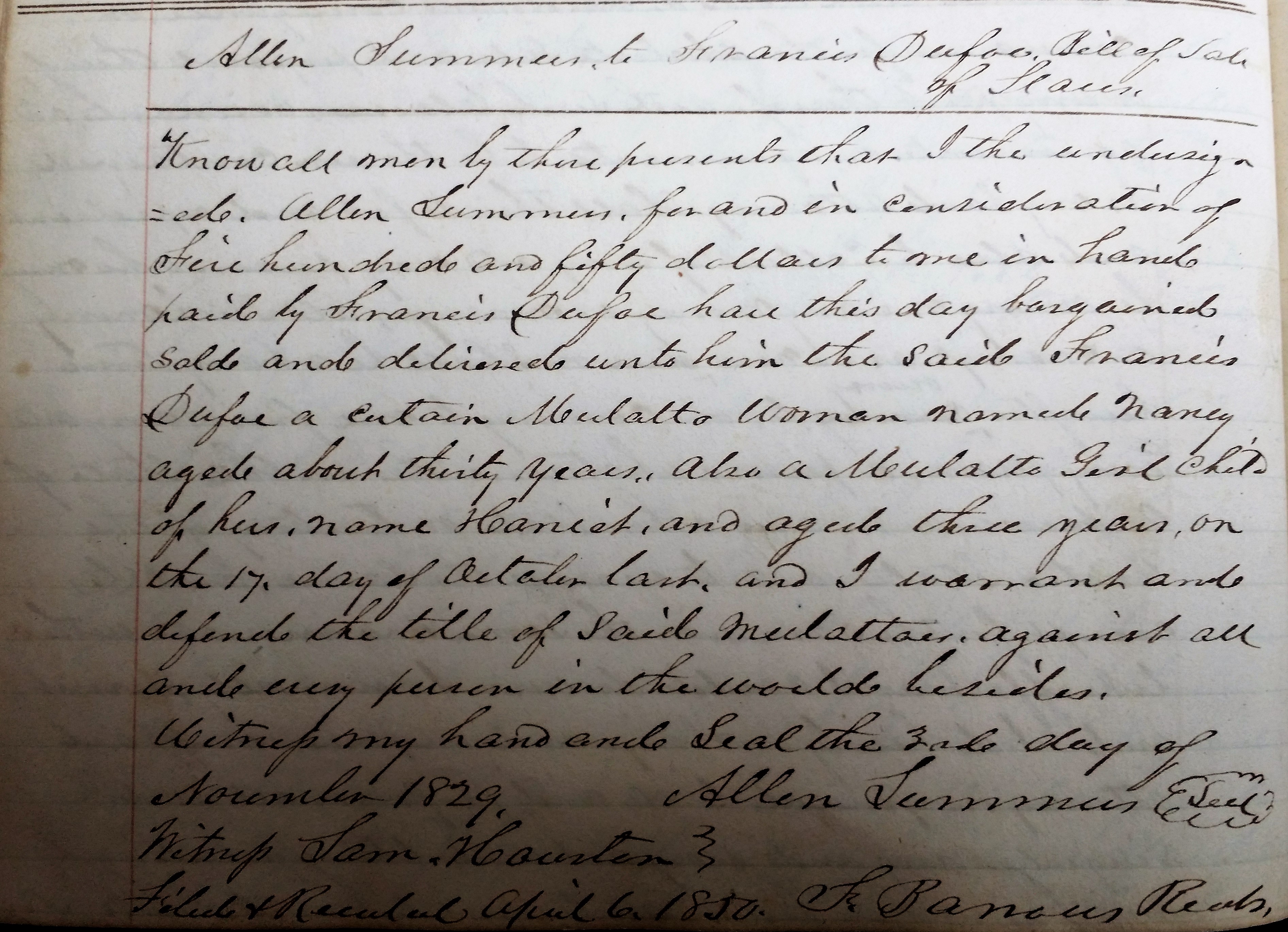 Bill of sale between Allen Summers and Francis Dufoe. Francis paid $550 for Nancy in 1829.