Battle of Island Mound
On October 29, 1862, a small Civil War border battle between Bates County Partisan Guerrillas and the 1st Kansas Colored Volunteer Infantry (1st KCVI) occurred and the significance of this battle reverberated all the way to the War Department in Washington City.  For the first time in the Civil War, African-American troops engaged the enemy in battle and their heroic efforts were declared a victory.  On October 27th, 1862 about 250 men of the 1st KCVI marched into Bates County to clear out a Guerrilla stronghold known as Hog Island which was located on the Marais des Cygnes River. 
The troops commandeered the home of Enoch & Christiana Toothman, whose son was being held prisoner at Ft. Lincoln, Kansas.  The Toothman home was about two miles north of Hog Island.  Christiana and her daughters were the only ones home when the soldiers arrived.  They occupied the property, planted their flag and dubbed it, "Fort Africa."  Believing there were about 400 Guerrillas on the Island, runners were sent back to Kansas for reinforcements.  They would not arrive until the day after the battle.  A foraging party was sent out on October 29th and they were lured by the Guerrillas into a fight.  Additional troops were sent to their aid.  The prairie was set ablaze.  Fierce fighting ensued and when it was over, 8 men of the 1st KCVI were dead including John Six Killer, a Cherokee, and a white officer, Captain Crew.  All but the Captain were buried on the Toothman farm. The location of their graves is unknown.  Captain Crew's body was returned to Kansas for burial.  It is unknown how many Guerrillas were killed. Their leader was reported to be Captain Bill Turman of Bates County.
In 2008 a statue of a 1st KCVI soldier was dedicated on the Bates County Courthouse Square and in 2012 on the 150th anniversary of the battle, Missouri's Department of Natural Resources dedicated The Battle of Island Mound State Historic Site located on 40 acres of land that was part of the Toothman farm.  Author and researcher Chris Tabor wrote the book, Skirmish at Island Mound, and it was his research that brought new awareness to this significant event in our American history. Contact us via email if you are interested in purchasing a copy.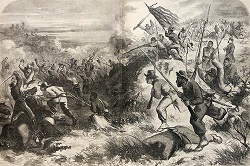 "Harper's Weekly" depiction of The Battle of Island Mound.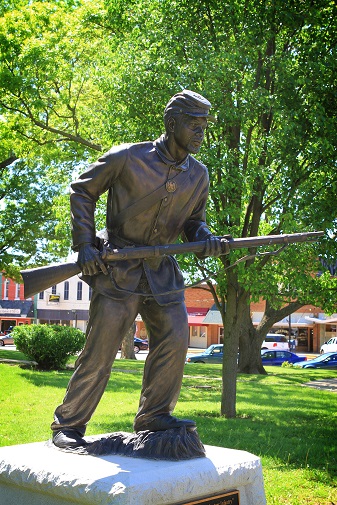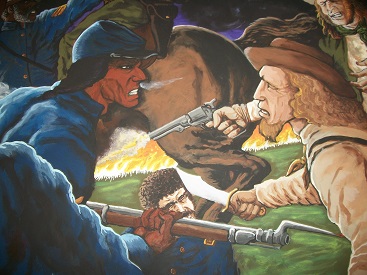 Battle of Island Mound mural scene